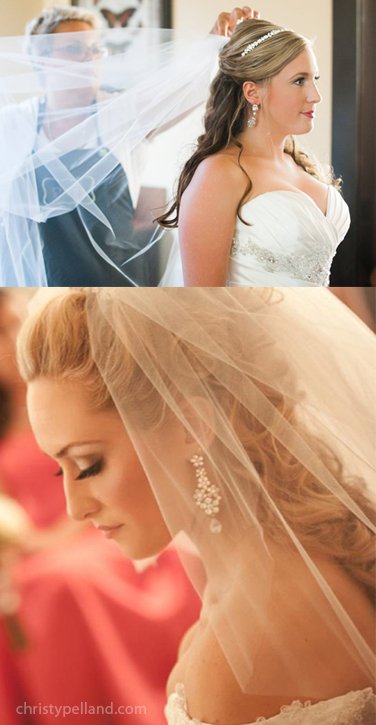 Chémel Salon is an Award-winning salon featuring highly-trained hairstylists and makeup artists who are well recognized, and operate at the top of our industry. Our team specializes in bridal/wedding and special event styling. With our team's extensive experience, we can ensure that you look your best for any occasion.
The Chémel Way
At Chémel Salon, we believe that every bride deserves to look perfectly beautiful on her wedding day. Our passion is to bring out the exquisite beauty of every bride. We strive to capture the inner and outer radiance of each client, on their glorious day.
We understand the inevitable stress that comes along with the joy of a wedding. So, we eagerly walk our brides (and the bridal party) every step of the way; from planning stages, right up to the big event. Our expertise in preparing for these special occasions ensures our clients peace of mind.
Consultation and Pre-Trial
During Chémel Salon's bridal consultation process, we encourage you to tell us about your wedding dress, your flowers and décor, how you usually wear your hair and makeup for a special occasion, etc. We intently listen in order to lend guidance towards a style that suits you best. It is during this process in which we will pair you with the designer or stylist that will fit you best. For an additional fee, you can request pre-trial run in order to assure our team will deliver a custom designed, signature look.
Your Wedding Day
Bride: You can count on Chémel Salon to create the perfect look for your wedding day. Your artists will be booked exclusively for you. As their only bride that day, you will be exactly where you should be on your wedding day: the center of their attention.
Bridal Party: Your artists will work with you on the wedding day to create any look you want for your bridal party. Bring photos as inspiration, or let us do something original and beautiful that complements your look. Mothers of the bride and groom can also be booked for hair and make-up, as well.
Agenda: We believe that preparation is the foundation for a great experience. Our administrative team will prepare a schedule for your team of artists to ensure that you and everyone in your bridal party is ready in plenty of time to begin the festivities.
Beauty Services/Special Event Services
Chémel Salon uses only the finest hair and make-up products so you will look and feel your very best on your special day. We are confident that our team of designers will delight you and your bridal party with our exceptional work.
Bridal Hairstyle
Whatever your signature style is; natural, romantic, sexy, chic, modern, soft, glamorous, sultry, flirty, etc., we will work with you to make your dream a reality. With our team's extensive experience, we can create any variation of up or down or anything in between.
Makeup
Whether you choose airbrush or traditional makeup, Chémel Salon will create a gorgeous look that lasts all through your wedding day and night. Our artists will bring fashion-forward thinking and create a specialized look, just for you.
Airbrush Makeup: Airbrush makeup guarantees you'll look flawless; it veils imperfections while allowing the skin's beauty to shine through. It is terrific for covering scars, tattoos, uneven skin tone and texture, and is ideal for special occasions.
Traditional makeup: Your artist will use the highest-quality products to ensure you have radiant skin all day long. We customize a formula for you, using a powder or cream foundation or a tinted moisturizer, and create full-coverage makeup that feels light and looks perfect.
Lashes: False eye lashes are available upon request, for an additional charge.
*Lashes subject to availability.
Salon Services
It is important to nourish and maintain your hair in the months, weeks, and even days leading up to your wedding day. We offer a full range of services at our salon. Please inquire with the front desk for prices and availability.
Bridal Hair and Make-up From $245+
Includes Airbrush foundation, lashes with application, and *lip color sample for touch-ups
Bridal Hair Only From $122.50
Includes photo session styling
Make-up Only From $122.50
Includes airbrush foundation
Bridal Party Attendants From $195
Includes airbrush foundation makeup and hair
Bridal Party Attendants Make-up Only From $97.50
Includes airbrush foundation
Bridal Party Attendants Hair Only From $97.50
Includes photo session styling
Mother of the Bride/Groom (Short Hair Styling) From $75
Junior Attendants Hair only (Ages 6-12) From $85
Flower Girl (Ages 1-5) From $25
Includes Hair & light make-up
Designer & Stylist Bridal Hair From $80
Trial run bridal hair
Designer & Stylist Make-up From $80
Trial run bridal hair
Other possible costs:
Early arrival fee (before or after salon hours) $50 per Artist
Holidays, Salon closed day  $100
Calling in an artist on day off $100 per artist
Please note: Long hair may have an up charge 
Booking Requirements: Chémel Salon will provide a comprehensive estimate, for the scope of services you want our team to perform for your special day. We do require a signed contract and deposit based off the total amount of services needed on the day of the event. Any changes that need to be made to the scope of services, must be made with a minimum of 60 days' notice. Changes are subject to availability, and may reflect a price change as well. The times available cannot be guaranteed until contract and deposit are made.
Top 10 Bridal Tips & Helpful Advice — If you want radiant skin and beautiful hair for your special day it's important that you implement good hair care and skincare habits well in advance before your special day. Adopting good habits for the health of your hair and skin will give the designer's at Chémel Salon a better canvas to work with. In the days leading up to your special day, Chémel Salon's best advice for skin and hair preparation are: • Get plenty of rest the night before your appointment. • Moisturize your face to avoid any flaking of dead/dried skin. Gently exfoliate your lips. • Get your eyebrows shaped and cleaned up. If you require lip or chin waxing do it at least 24 hours prior to your appointment. • Come to your appointment with a fresh face • Be sure to eat a well-balanced meal before your appointment • Hydrate yourself by drinking plenty of water. • Avoid a facial within 14 days of your appointment – Tweeze/wax eyebrows no less than 24 hours prior • Do not use self-tanner on your face. • Do not use "shimmer" anywhere on your face or body. Day of wedding: Tips for preparation for the day of the wedding -Eat some breakfast to keep your blood sugars up. It's a fun and full day of shooting! – Wash hair the morning of and dry it with minimal product. I.e. Heat protector – If you have naturally frizzy hair, we'll prefer it straighter so we can do multiple changes to your hair. Please pre-straighten with an iron the morning of. (No chemical straighter within a week of the shoot) Please only use a heat protector product on your hair. No oils or heavy products. Oily products weights down the hair and makes it limp. We have amazing products that we can add as needed. – Faces washed, moisturized, NO make-up that we have to take off. -Gently exfoliate face and lips morning of. You can make a sugar scrub with sugar and olive oil and lemon that works great on lips. Tone and lightly moisturize. – Please wear button up shirts for easy changing as to not mess up the hair. A special note: The Che'mel Style Team takes great pride in our work. We are focused on keeping everything on schedule, and making sure that the getting ready process is as stress free as possible. We thank you for trusting us during this process and we look forward to seeing you all soon!